High rigidity
Flexibility and high accuracy
Multiple sensors solution

Finite elements analysis is introduced in the designing process of the HE series, ensures high rigidity and accurate mechanical structure.

The machine base is using a closed frame movable bridge type structure, which is simple and offers high loading capacity and the best motion performance.

000-grade granite machine base, offers high rigidity, corrosion resistance, and high stability.

The work stage can preset multiple lenses combination is for option, satisfy different measuring requirements from different customers.

The full closed-loop motion control system ensures the best movement and positioning performance

The HE series gantry type vision measurement machine can combine multiple measuring sensors in one machine, including an imaging system, touch probe, laser sensor, and white light sensor. Also supporting the full line of Renishaw probe magazine, all the external measurement applications.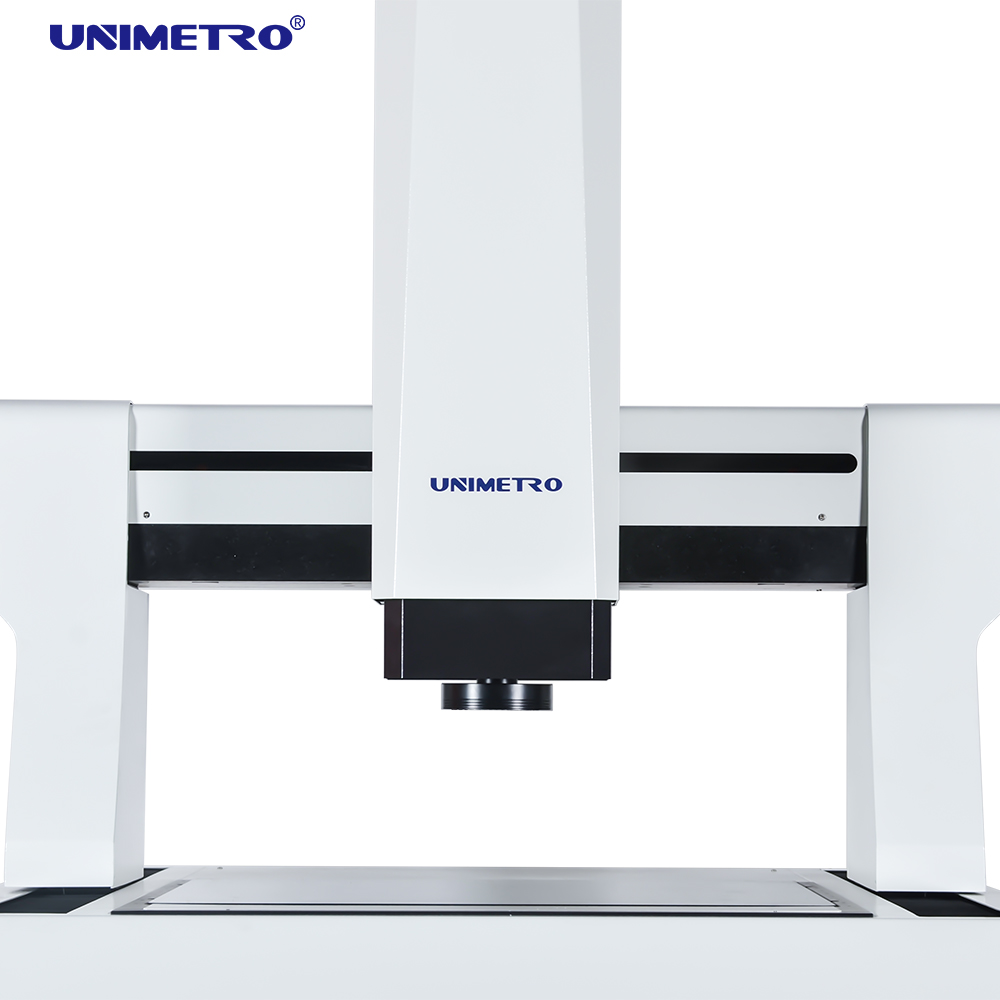 SPECIFICATION
Items
HE 652
HE 862
HE 1080
HE 1210
HE 1512
HE 1812
Dimension(mm)(L*W*H)
1700*1180*1750
1700*1280*1750
1900*1480*1750
2100*1680*1750
2500*1880*1750
2700*1880*1750
Measuring range(mm)(X*Y*Z)
500*600*200
600*800*200
800*1000*200
1000*1200*200
1200*1500*200
1200*1800*200
Measuring Accuracy (μm)
3+L/200
3+L/200
3+L/200
3+L/200
3+L/200
3+L/200
Repeatability (μm)
3
3
3
4
4
4
Weight (kg)
1500kg
1800kg
2900kg
3200kg
4400kg
4800kg
Image and Measuring
CCD
2 million pixel HD GIGA digital camera
Lens
Fully automatic zoom objective 1~10X
Magnification
18-195X(For reference only. With different camera and lens the magnification will be different)
Field of view
8.1~1.3mm(For reference only, with different camera and lens combination, the value will be different)
Working distance
82mm
Linear scale resolution
0.5μm(0.1μm for option)
Driving system
CNC control, AC fully closed-loop servo motor drive, joystick control, mouse/keyboard control
Illumination
Programmable LED8 partition ring surface light, LED bottom parallel light (optional: 40 partition ring light, coaxial light, adjustable color light source)
SPECIFICATION
Items
HE 652
HE 862
HE 1080
HE 1210
HE 1512
HE 1812
Dimension(mm)(L*W*H)
1700*1180*1750
1700*1280*1750
1900*1480*1750
2100*1680*1750
2500*1880*1750
2700*1880*1750
Measuring range(mm)(X*Y*Z)
500*600*200
600*800*200
800*1000*200
1000*1200*200
1200*1500*200
1200*1800*200
Measuring Accuracy (μm)
3+L/200
3+L/200
3+L/200
3+L/200
3+L/200
3+L/200
Repeatability (μm)
3
3
3
4
4
4
Weight (kg)
1500kg
1800kg
2900kg
3200kg
4400kg
4800kg
Image and Measuring
CCD
2 million pixel HD GIGA digital camera
Lens
Fully automatic zoom objective 1~10X
Magnification
18-195X(For reference only. With different camera and lens the magnification will be different)
Field of view
8.1~1.3mm(For reference only, with different camera and lens combination, the value will be different)
Working distance
82mm
Linear scale resolution
0.5μm(0.1μm for option)
Driving system
CNC control, AC fully closed-loop servo motor drive, joystick control, mouse/keyboard control
Illumination
Programmable LED8 partition ring surface light, LED bottom parallel light (optional: 40 partition ring light, coaxial light, adjustable color light source)