Smart design
For the EXTRA series machines, a mechanical design we are following the concept of lightweight, smart, and compact, in the meantime keeps the rigidity and stability. With the lowest space occupation offers the highest measuring range.
High accuracy transition system
The EXTRA series is using high accuracy linear slideway, which is totally different from the cross slideway used for other manual VMM, ensures much more stable and accurate transmitting of the work stage, also voiding the potential risk of the shorten traveling range caused by the cross slideway.
3D measuring function
Working with the Unimetro professional 3D measuring software, the EXTRA series VMM will provide a strong 3D measuring function, which becomes a powerful 2D/3D composite measuring device with an extremely reasonable price.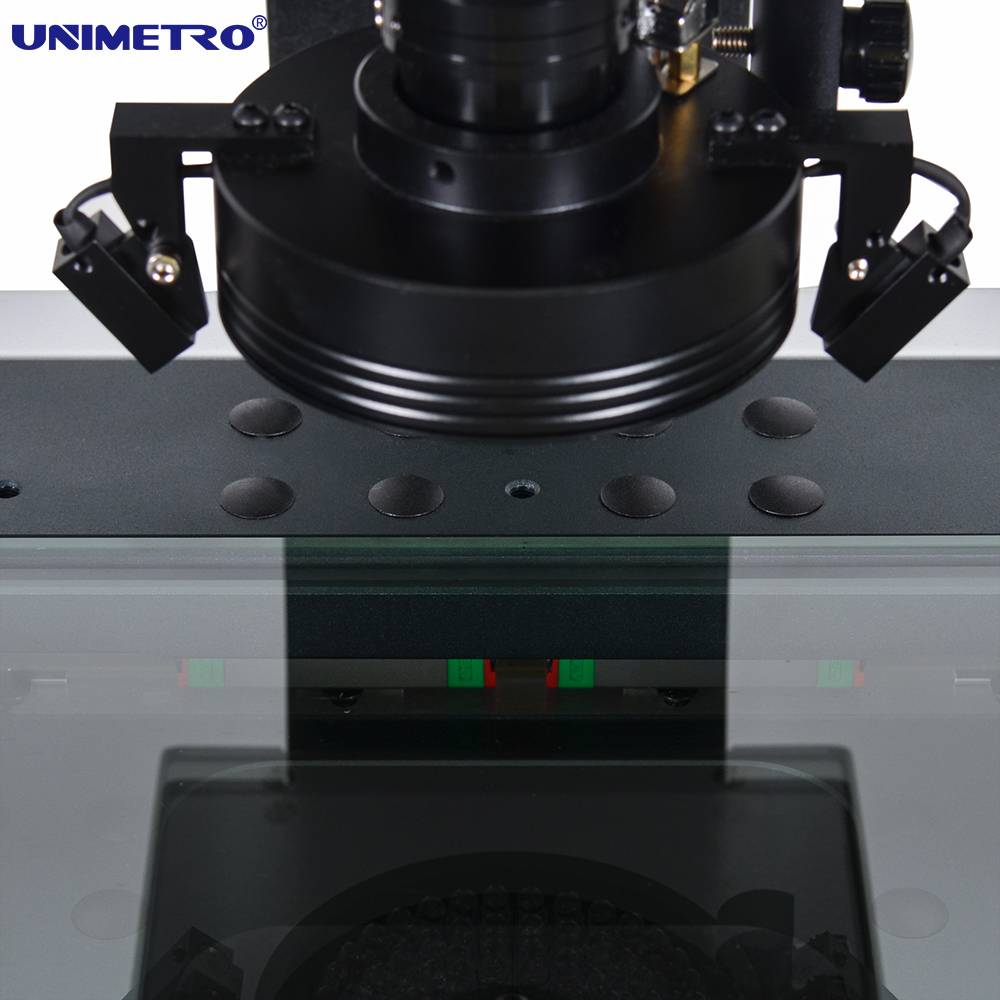 SPECIFICATION
Items
EXTRA 200
EXTRA 300
EXTRA 400
EXTRA 500
Dimension(mm)(L*W*H)
550*540*930
600*740*980
700*840*980
800*940*980
Measuring range(mm)(X*Y*Z)
200*100*150
300*200*200
400*300*200
500*400*200
Measuring Accuracy (μm)
2.5+L/100
2.5+L/100
2.5+L/100
3+L/100
Repeatability (μm)
2.5
2.5
2.5
3
Weight (kg)
140kg
190kg
240kg
290kg
Image and Measuring
CCD
1.2million pixel digital camera
Lens
Manual dented zoom lens with magnification signal feedback 0.7-4.5X
Magnification
18-195X(For reference only. With different camera and lens the magnification will be different)
Field of view
8.1~1.3mm(For reference only, with different camera and lens combination, the value will be different)
Working distance
90mm
Linear scale resolution
0.5μm
Driving system
X/Y axis manual control, Z-axis CNC full closed-loop motion (including autofocus function)
Illumination
Programmable LED4-zone ring surface light, LED bottom parallel light (optional: 8-zone ring light, coaxial light)
Items
EXTRA 200
EXTRA 300
EXTRA 400
EXTRA 500
Dimension(mm)(L*W*H)
550*540*930
600*740*980
700*840*980
800*940*980
Measuring range(mm)(X*Y*Z)
200*100*150
300*200*200
400*300*200
500*400*200
Measuring Accuracy (μm)
2.5+L/100
2.5+L/100
2.5+L/100
3+L/100
Repeatability (μm)
2.5
2.5
2.5
3
Weight (kg)
140kg
190kg
240kg
290kg
Image and Measuring
CCD
1.2million pixel digital camera
Lens
Manual dented zoom lens with magnification signal feedback 0.7-4.5X
Magnification
18-195X(For reference only. With different camera and lens the magnification will be different)
Field of view
8.1~1.3mm(For reference only, with different camera and lens combination, the value will be different)
Working distance
90mm
Linear scale resolution
0.5μm
Driving system
X/Y axis manual control, Z-axis CNC full closed-loop motion (including autofocus function)
Illumination
Programmable LED4-zone ring surface light, LED bottom parallel light (optional: 8-zone ring light, coaxial light)